We're delighted to announce that this month marks MST's 50th anniversary in the earthmoving machinery and spare parts industry.
For any business, a half century is a significant milestone. It follows so many others for us along the way:
Opening service centres in Glasgow, Birmingham and most recently, Guildford.
Manufacturing some of the largest mining buckets in the World
Being chosen as the sole authorised UK distributor for some of the world's largest  spare parts manufacturers including ITR, Esco and Hardox Wear Parts
Securing the ISO 9001 accreditation in Manufacturing.
Recognition as one of the fastest growing companies in the North East.
Our beginnings may be as a humble family business but our efforts over each year and decade have taken us ever closer to achieving our long-held ambition: to become the largest stockholding of earthmoving machinery spare parts in the UK. That dream became reality in 2019 when we became an official part of the USCO Group, whose ITR brand is considered the global leader in the manufacture of undercarriage, GET and repair parts.
A Midlands name for a North East company 
It was April 19th, 1971 when MST (or Midland Steel Traders to give it its full name) was founded by the Whitehall family as a supplier of undercarriage in the North East of England. Inflation that year stood at a 30-year high but the mood of the nation was on a high with hits from the era's icons, like T. Rex and Mungo Jerry.
It was not the intention to use a name for the new North East company that had been registered by its founder, Ken Whitehall, some years earlier in the Midlands, but history had other plans. The long-running postal strike of 1971 made registering a new company name impossible so Midland Steel Traders Ltd was put to good use; quickly abbreviated to MST to allay any confusion on geography!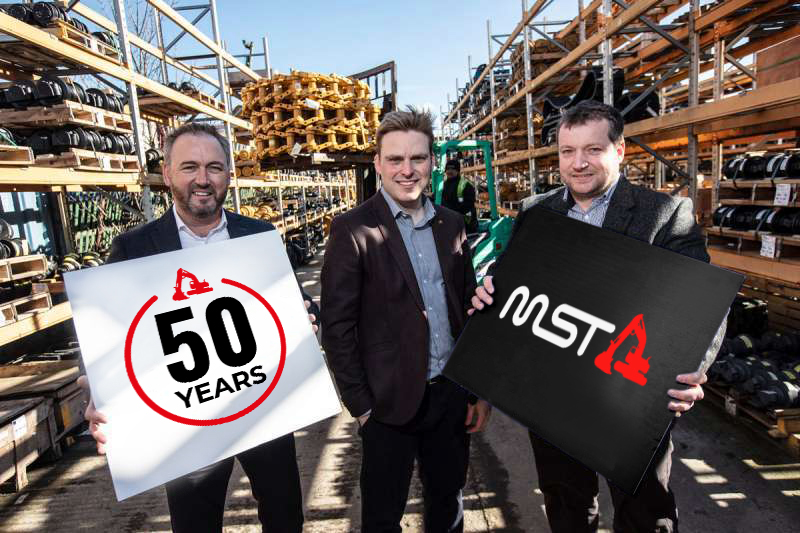 Local supplier, worldwide manufacturer
Over the years, our company has weathered many storms. The 1973 oil crisis, the decline of traditional British industries like coal mining, three recessions, and then of course Covid and Brexit. At each juncture, we have adapted and evolved.
The biggest catalyst for growth over the company's 50-year history has undoubtedly come from partnering with some of the world's largest manufacturers of spare parts components. ITR undercarriage parts, ESCO wear parts, and most recently VIBY High tip buckets have all chosen MST as their sole authorised UK distributor. The company is also an approved Hardox wear parts centre.
In 2019, MST transitioned from its ITR partner status to fully-fledged member. Part of the global powerhouse USCO, ITR is considered the global leader in the manufacture of undercarriage, GET and repair parts. The partnership offers UK earthmovers access to the world's most extensive range of innovative parts plus world-class support through thirty strategically located global distribution centres.
Buying direct from the manufacturer brings benefits to our earthmoving community of both price and value. ITR are the only undercarriage aftermarket supplier in the UK that own their own manufacturing factories and as such, have full control over supply chain and production from securing raw materials, to quality assurance, breadth of stock, and parts supply.
Our membership of ITR grants us access to the most competitive prices on earthmoving spare parts and access to over £200 million of stock.
As Rory Whitehall, our Managing Director, describes,
"MST is committed to maintaining and growing the most impressive earthmoving machinery stockholding in the UK. Access to parts on time, every time, is critical to our customers' success, whether they be operating in construction, quarrying, infrastructure or agriculture. Our customers usually require their parts with very little notice so it is critically important they have ready access to stock, and at the right price. That's a principle that is even more important as the country accelerates out of lockdown, steps up a gear on flagship projects like HS2, and demand increases as a result."
"Ours is a niche industry where it's important to speak to somebody who knows the machines and the parts"
It is our dual status as local supplier and worldwide manufacturer that allows us to stay true to our British values of long-standing quality and reliability, whilst at the same time tapping into the global oversight of ITR.
Rory describes why this has been critical over the last year,
"From their base in Northern Italy, ITR maintains a watchful eye on what's happening in different markets across the globe.  Their insight meant Covid was on our radar as early as February last year allowing us to introduce Covid-secure protocols, way before many of our competitors. ITR brings a wider perspective to our business, allowing us to adapt at pace."
Building foundations for the next 50 years
The company's impressive stockholding is of strategic importance but so too are our staff.
As Rory reflects,
"When I look at the team within our business – the longstanding members of staff and our newer members, they all share an absolute passion and respect for the plant and machine market.
"Ours is a niche industry where it's important to speak to somebody who knows the machines and the parts. At MST, our ability to deliver on time, every time, comes as much from the expertise of our staff as it does from the breadth of our service offering.
"That our British business is going from strength to strength is testament to the quality we have built over half a century, and is the foundation upon which we will build our next 50 years."